"You should write about Charlie Kautz." - Marine Elodie D'Alderete (ArtBeat Collective, model and entrepreneur)
In my head I said "yes, of course." At this specific moment, I did not know much about this man, but I had seen his name a good amount of times. And, at this specific moment, my mind started to wander towards why I kept seeing his name.
This year's music festival season was good to me. I had a good opportunity working production for some of the premier music festivals in the nation; including many of the popular Illinois-based music festivals (i.e., Summer Camp Music Festival, Spring Awakening, Mamby On The Beach, North Coast Music Festival, and Riot Fest). Of course I noticed the therapy tables at a few of these right away. I had a feeling they belonged to Dr. Charlie Kautz. What he is doing is absolutely brilliant! I could not think of any other entities in the music industry that were involved in performance and integrated chiropractic therapy for touring artists. We finally met at North Coast Music Festival. The stage that I worked on hosted artists like Umphrey's McGee, Greensky Bluegrass, Grouplove, The Revivalists, Future Rock, Raury, The Trap House; et al. Some of these Charlie already had great relationships with. Knowing that he offers his services to all the artists and production personnel on music festival sites, I introduced myself; hoping to schedule an appointment. He was open arms and took the time to listen to what I think may be causing some of the discomfort that I was having. We both thought it would be to our benefit if we scheduled this appointment once our touring schedules cooled down. This was a very humbling encounter, to say the least.
Have a peek at what Dr. Charlie Kautz does, below:
This man's experience speaks for itself. I am going to break it down real quick; we want this to be a different kind of feature. Dr. Charlie Kautz's brain-child is Epic Performance, he has a brick-and-mortar clinic in Wisconsin Chiropractic and Wellness on Pewaukee Lake, and serves as an investor for SuperCharge! Foods. Did I mention, he also takes the time to manage the Tropical House/Indie Dance DJ known as Plaid Hawaii? Yea, he does that too...
He owns a mobile therapy company in the music industry.
He treats patients at a general chiropractic and wellness practice.
He is involved with Madison-based distributor of microgreens and bioenergetics.
And, he manages a nationally touring DJ.
Just wow.
Charles Anthony Kautz grew up in Paducah, Kentucky. At a young age, he was drawn to three specific areas of study (i.e., music, science, and athletics). His love for the human body grew in response to developing chronic pain while running on the cross country team throughout high school. He developed both shins splints, and a thing they call "runner's knee." It amazed him how quickly he healed by going to the chiropractor.
Now, as Dr. Charlie, he is a licensed Chiropractor and an Active Release Therapy (ART) certified provider. After years of observing and working with musicians, Charlie has utilized a unique combination of advanced techniques to address these underlying causes of repetitive stress injury. Such credentials has helped him achieve a membership with the Chiropractic Performing Arts Network (CPAN). This is a nation-wide network of chiropractors who share a common vision of providing natural healthcare to performing artists by enhancing performance and increasing overall body awareness.
The sky is the limit for this man. To say the least.
Charlie believes that movement, nutrition, and positive thinking are the keys to a healthy lifestyle. This man will always provide an educational experience during each of his therapy sessions. Artists are happy. The music industry is happy.
Scroll through some of his happy clients, below: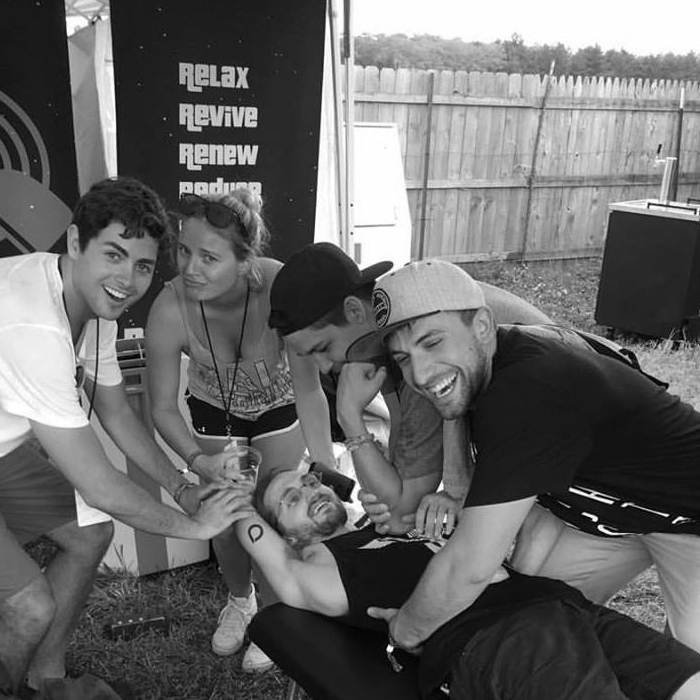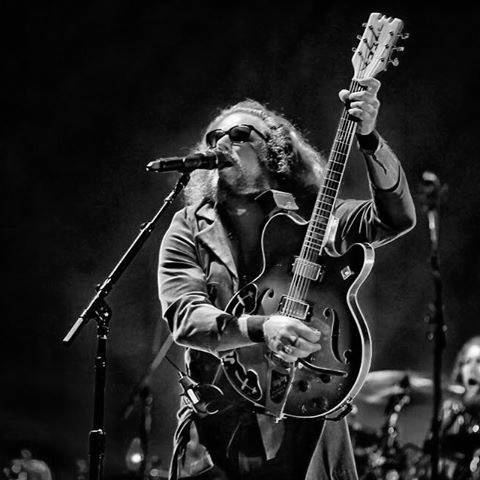 Related Sources:
Bringing Chiropractic to Center Stage in the Music Industry
Meet The Rock Doc: Charlie Kautz, DC
The appointment that I had scheduled with Charlie was on Friday, November 11th, 2016. I cannot thank him enough for coming to my home. It was a very great experience to host Dr. Charlie in my studio space. He is a work-horse, and it does not go unnoticed. His primary reason for being in Chicago that weekend was to work with both Rüfüs Du Sol (11/11 The Riviera Theatre) and GRIZ (11/12 Navy Pier). It is all a dream to him.
"I'd have to credit it to the relationships that I have built. There is nothing better than working with a friend; that you have always been a big fan of."
Charlie prepared himself for this trip by juicing ten pounds of fresh ginger root. It is the key ingredient to one of his sworn-by concoctions. He serves it to his clients as a pre-show energy supplement. Just one shot has the ability to send a rush through your body. Its 40% ginger root; then, 60% organic lemonade, carrot, and honey. He brought some for me too. Its very spicy and gives you a nice stomach rush. Its a pick-me-up. Its good for hangovers. And, its also great for the artist. Helps them focus; find their zones, and/or vibe more effectively with other artists performing on any given night.
Before I could go any further into this therapy session, I had to sign a couple documents: 1) a consent form - giving him permission to treat me and 2) a HIPPA form - stating that he will not release any medical information that I disclose. This level of professionalism is always appreciated by all of the artists he works with. Somethings are better left unknown...
Dr. Charlie introduced me to his practice by simply asking me some questions about my physical background (i.e., sports, work, injuries, etc...). He also led me through a few range of motion tests to target the various areas that I would have discomfort.
I played competitive ice hockey for twenty three years; made a decent name for myself while playing NCAA Division I for St. Lawrence University in Canton, NY. But, I had to stop. My body hurt. I had suffered shoulder seperations and dislocations, a few broken bones, and many torn muscles. It was a very rough career. Other therapists that I have seen in the past advised me to stop weight lifting. My muscles were over-worked. It was more beneficial for me to just stretch at this point.
Today, most of my pain and discomfort radiates throughout my neck and shoulder blades. Dr. Charlie already knew how to help. Many of the artists that he has treated have experienced similar neck, back, and arm pain. For example, he explained to me that the majority of drummers will have some sort of pain or restriction in their right upper extremity (due to hitting the "ride cymbal" constantly). Then, a lot of guitarists are dealing with issues in their wrists and forearms; sometimes back problems arise in bassists. Charlie is able to help by simultaneously applying pressure on a muscles he is stretching in a particular way. This is a practice called Active Release Therapy (ART). ART has proven to be very beneficial to both musicians and athletes.
Dr. Charlie performed a diagnostic test by applying pressure directly down my spine. It set a base for the therapy session. Why? Well for me, this particular practice was very sensitive to me. I immediately felt shooting sensations in my upper back. Charlie told me that this was because I had lost the natural curvature to that area of my spine and that this was causing nerve irritation. My neck muscles have become strained over time. This is very common for people who have poor posture. Even just simple everyday movements like looking at your cell phone can change and wear down someone's skeletal structure.
We spent the majority of our therapy session working on my upper body. Once Charlie pinpointed the issues, he knew exactly what to do. My shoulders have rolled forward over time; tightening up and putting much strain on my neck, back, arms. My lumbar spine was being pulled all different directions, until realigned by various releases and techniques. The tightness on the left side of my body diminished immediately by an adjustment to the first rib on that side. This is an area that will not usually adjust unless it absolutely needs the release. These standard chiropractic adjustments brought much relief to my body.
Once my adjustment needs were treated, Charlie had me lay on my back. It was time for him to loosen up both my chest and shoulder muscles. Years of poor posture was what rolled my shoulders forward. And, it was lack of stretching which caused my chest to tighten up greatly. Focusing on posture and stretching is very important. Since I had not focused on either of these during youth hockey, it is now hard to hold good posture without feel any kind of discomfort. There is still hope though. He used one of those electric massagers tools on my pectoral muscles-- breaking down the fascia, releasing my knots, and stretching the muscles.
Dr. Charlie finished our therapy session by applying Rock Tape to my shoulders. This product is supposedly the world's best kinesiology tape. It can be used to treat both sports and non-sports injuries, including shin splints, plantar fasciitis, runner's knee and back pain. It has the ability to lift the skin away from the muscle, creating a layer of support. Charlie applied this to my shoulders after he loosened me up. It helped hold good posture by bringing my chest up and my shoulders back. I left it on for about four days until it started to come off. It definitely helped! This great man did some impressive work. I needed this therapy session. Real bad...
There you have it: Dr. Charlie Kautz is the "Musician's Physician." Keep track of this man's work and the brand he has built for himself. He is based out of the Milwaukee area, but travels the nation helping the best touring musicians in the World. He is a big deal. I cannot thank him enough for taking this time to work on me.
Follow Dr. Charlie on Facebook @Dr. Charlie Kautz Epic Performance, LLC and on Instagram/Twitter @kautz1
Visit the official website for Dr. Charlie Kautz Epic Performance, LLC at www.drcharliekautz.com.
Cheers!
Ricky